myHome Technologies
Control your indoor air quality from home or afar.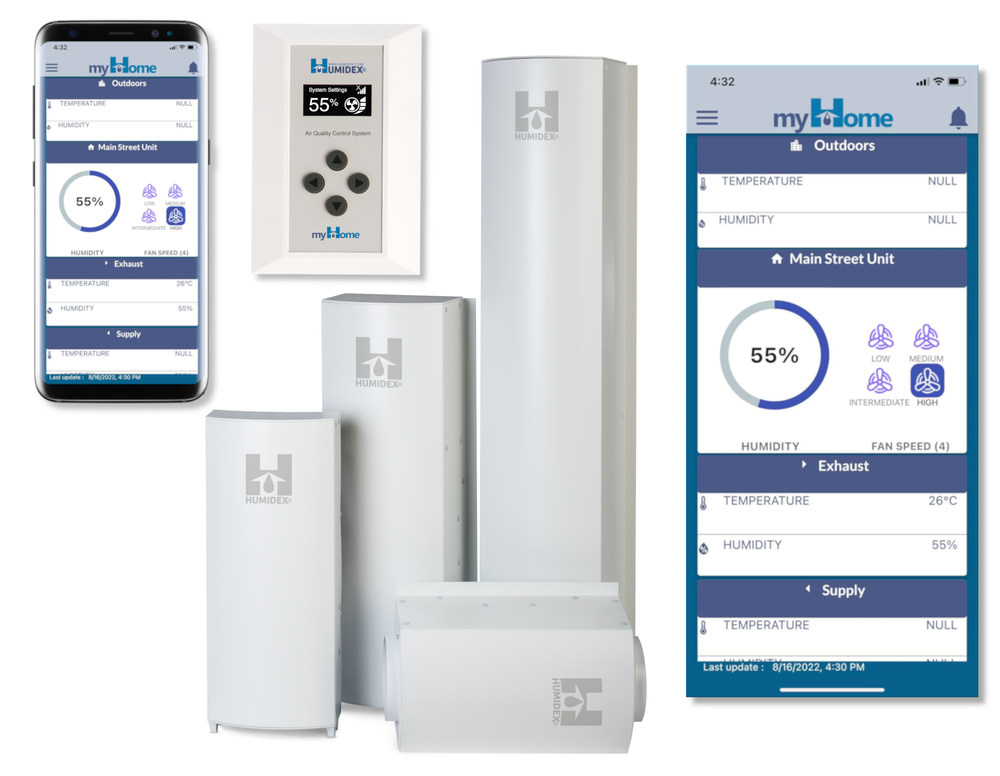 The myHome unit offers several advantages: it eliminates unpleasant odors, reduces humidity, protects against mold and detects and expels carbon monoxide.
The application allows you to manage settings and controls, monitor unit conditions in real time, check the weather forecast and fill out the warranty card.
Plus, with the HCS Humidex® system, you can control the humidity level more accurately, at any time from anywhere and optimize air quality year round, from your smart phone, digital tablet or computer. This will allow you to reduce mold and condensation, eliminate unpleasant odors, moldy smells, allergens and harmful gases, in addition to helping you avoid costly mildew damage to furniture, clothing and stored items.
Advantages of the HCS Humidex® unit include energy efficiency and low electricity consumption. They are also easy to install and require little maintenance.
Two separate apartments/condominium models are available: Standard and Hard-Connect. Another advantage of the HCS Humidex® model is that a sensor monitors and controls carbon monoxide and expels it as needed.
HCS Humidex units with myHome enables your customers to:
achieve more accurate humidity control
anytime, anywhere
optimize air quality, all year round, from your phone, tablet, or computer
reduce damaging moisture and condensation
eliminate bad smells, musty odors, allergens, and harmful gases
prevent costly mold and mildew damage to stored items, furniture, and clothing
HCS Humidex unit with myHome advantages include:
energy-efficient with very low electricity consumption
easy to install, effortless to maintain, and never any water to empty
two separate apartment/condo models available: Standard and Hard-Connect
a built-in Carbon Monoxide Sensor monitors, controls, and expels carbon monoxide emissions
models for apartments, condos, on-slab homes, and homes with basements or crawlspaces
Humidex vs other products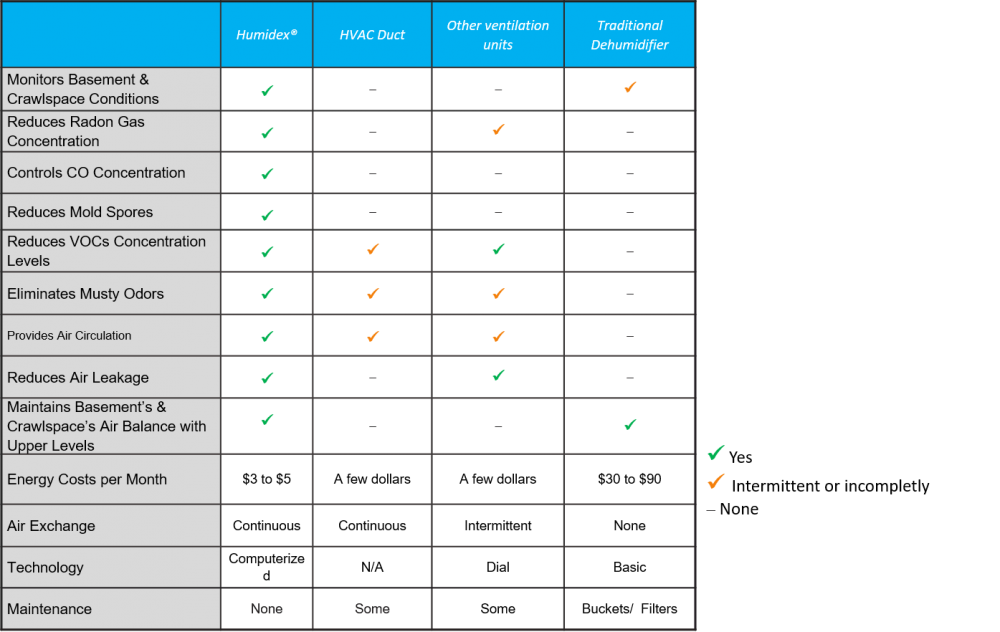 Warranty:
Limited 5-year warranty – 2 years on the control unit
myHome Limited Warranty: a one-year limited functionality warranty for myHome system.
myHome Liability Limitation: We cannot be held responsible for any changes, modifications, or updates made by third parties (platforms, operators, etc.) which could alter the proper functioning of the system and the myHome application.