HCS-APT-mH Humidex Apartment Unit with HCS & myHome Technologies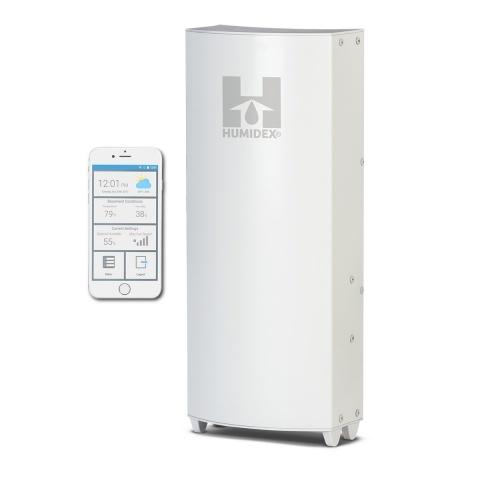 Detects & Exhaust Carbon Monoxide
Easy to set up and adjust
IOS & Android App and Wifi
With our Humidex® HCS and myHome unit, you can manage the level of humidity in your home more accurately, at any time, from anywhere.
Our systems can detect the presence of dangerous levels of carbon monoxide and start working to eliminate it and make your home safe and comfortable again. Easy to set up and adjust, our units send data to our technical support team over a Wi-Fi network.
Using the myHome application, you can adjust settings and controls when you want, monitor unit conditions in real time, check the weather forecast and register and open a session.
Our digital units are equipped with our patented smart technology, with two different modes. The vacant mode allows the unit to run more efficiently when no tenant is present for extended periods of time.
Better than a traditional humidifier that does not exchange air or ventilate, and is very expensive to operate, your Humidex® apartment or condominium unit will provide a healthier, drier, more comfortable living environment at a fraction of the cost.
These units are controlled by an internal digital sensor and include:
Carbon Monoxide Sensor Monitor
myHome App
You are in control with the touch of a button or the touch of a screen!

myHome gives you 24/7 unlimited access to:
your settings & controls
your real-time unit conditions
your local weather
your unit registration
your sign up and login
Surface area
up to 2000 sq. ft.
Control unit
IOS-Android App
Model
Humidity Control System and myHome
Installation area
Apartments - Condos
Dimensions
H 24" x W 9.5" x D 5.5"
Electrical
34W Max / 115 V @ 60 Hz
Equiped with a carbon monoxyde detector
Yes
Warranty
5-year limited warranty – 2 years on the control unit