DVS-CE Humidex Crawlspace Combo Unit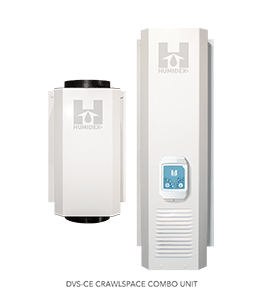 Booster fan enhance specially designed crawlspace units
Energy-efficient with very low electricity consumption
This high-capacity, energy-efficient unit for crawlspaces is compact and durable.
This energy-efficient crawlspace unit, with booster fan, comes in a compact, durable design. Vented like a dryer, with no buckets to empty! Easy to install and simple to operate.
A musty crawlspace can contaminate an entire house with mold, and summer humidity can aggravate the situation. The Humidex® DVS-CE unit has been specifically designed for homes with a crawlspace.
The unit also provides superior air quality and greater comfort, in addition to protecting your investment. Another winning feature of the Humidex® DVS-CE is that it does not require maintenance and is ecological.
This unit
DOES NOT USE
myHOME technology
Surface area
up to 3000 sq. ft.
Control unit
Digital control unit
Model
Digital Ventilation System and Booster Fan
Installation area
Crawlspace
Dimensions
H 30", W 11", D 7"
Electrical
62 W Max / 115 V @ 60 Hz
Equiped with a carbon monoxyde detector
No
Warranty
5-year limited warranty