DVS-BH Humidex Heavy Duty Basement Unit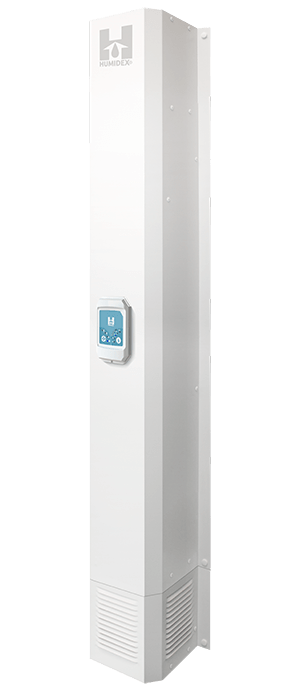 Easily adjust the settings for your comfort zone
New sleek design
Variable Speeds
The Humidex® DVS-BH unit is a higher capacity unit for handling with larger volumes.
With easy-to-use controls, you can easily adjust the settings for your comfort zone. This attractive and efficient Humidex® unit is designed to be placed against a wall and blend in with the decor.
In addition to contaminants and dangerous gases, your Humidex® digital ventilation system reduces or eliminates excess moisture and musty odors, so that you may enjoy better air quality and comfort. The DVS-BH unit is also energy efficient and does not require maintenance.
It reduces or eliminates:
Excess moisture
Musty odors
Harmful molds
Unhealthy indoor air
Dangerous contaminants and gases
Your DVS unit is:
Energy efficient
Maintenance free
Environmentally friendly
This unit
DOES NOT USE
myHOME technology
Surface area
up to 2100 sq. ft.
Control unit
Digital control unit
Model
High Capacity Digital Ventilation System
Installation area
Basement
Dimensions
H 86.5"-101", W 11", D 7"
Electrical
34W Max / 115 V @ 60 Hz
Warranty
5-Year Limited Warranty