DVS-CH Humidex Heavy Duty Crawlspace Unit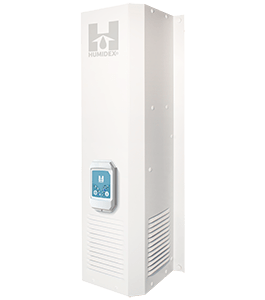 High capacity unit
User Friendly Digital Interface
Variable speed
This high capacity unit for crawlspaces is compact and durable.
Its digital ventilation system reduces or eliminates excess humidity, moldy odors, unhealthy indoor air and dangerous gases.
A musty crawlspace can contaminate an entire house with mold, and the situation can be aggravated by summer humidity. The Humidex® DVS-CH unit has been specifically designed for homes with a crawlspace.
The unit also provides superior air quality and greater comfort, in addition to protecting your investment. Another winning feature is that it does not require maintenance and is ecological.
It reduces or eliminates:
Excess moisture
Musty odors
Harmful molds
Unhealthy indoor air
Dangerous contaminants and gases
Your DVS unit is:
Energy efficient
Maintenance free
Environmentally friendly
No buckets to empty
This unit
DOES NOT USE
myHOME technology
Surface area
up to 2400 sq. ft.
Control unit
Digital control unit
Model
High Capacity Digital Ventilation System
Installation area
Crawlspace
Dimensions
H 30", W 11", D 7"
Electrical
34W Max / 115 V @ 60 Hz
Equiped with a carbon monoxyde detector
No
Warranty
5-year limited warranty