DVS-HW Humidex High Crawlspace Unit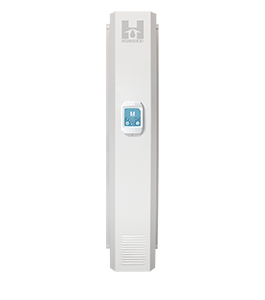 User Friendly Digital Interface
Energy Efficient and Maintenance Free
Variable Speeds
The Humidex® DVS-HW is an energy efficient and durable digital ventilation system designed for pony or knee walls.
The space is vented like a dryer and this unit is easy to install.
In addition to contaminants and dangerous gases, your Humidex® digital ventilation system reduces or eliminates excess moisture and musty odors, so that you may enjoy better air quality and comfort. Moreover, the system is energy efficient and does not require maintenance.
It reduces or eliminates:
Excess moisture
Musty odors
Harmful molds
Unhealthy indoor air
Dangerous contaminants and gases
Your DVS unit is:
Energy efficient
Maintenance free
Environmentally friendly
No buckets to empty
Enjoy:
Superior air quality
Improved comfort
Protection of your investment
This unit
DOES NOT USE
myHOME technology
Surface area
up to 1500 sq. ft.
Control unit
Digital control unit
Model
Digital Ventilation System
Installation area
Pony/knee wall application
Dimensions
H 48.5" x W 9.5" x D 5.5"
Electrical
31 W Max / 115 V @ 60 Hz
Equiped with a carbon monoxyde detector
No
Warranty
5-year limited warranty